Rare sale on this item from Canadian Tire.
11.99$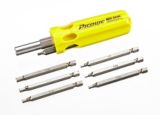 A must have for any home and garage owner.
Use code 941612566 to save 10$ more, regular price is 400$ CND
The ulti-mate work station! Innovative design transforms to tackle any project. When you need to multi-task, our workstation multi-tasks with you. Can be used as an 11′ ladder, scaffold, work bench, 2-wheel utility cart or a multi-position ladder. Work bench also includes a built-in powerstrip for added convenience.

WEBCODE: W- 0983000

platform raises from 22 2/5″ to 54″ h.

aluminum

some assembly required

built-in powerstrip; almost 5′ long

It's a multi-level ladder for any number of indoor and outdoor projects

It folds, rolls and telescopes to extend over 11 feet

It's a versatile workshop bench that adjusts to 3 different heights

Flip over the top and it becomes a sturdy scaffold with built-in powerstrip
This set is rated 4.5/5 based on 117 real customer reviews, not bad at all.
What it contains :
Product Overview:
General Warranty:

Craftsman Hand Tool Full Warranty

Marking Text Size:

Standard

Units Type:

SAE and Metric

Number of Tools:

53

Material:

Alloy Steel
Included with Item:
Kit/Set Information:
Number of Sockets:

20

Number of Bits:

30

Number of Quick Release Ratchets:

1

Number of Adapters:

2
General Features:
Drive Size:

3/8 in.

Socket Points:

6

Drive Socket Depth:

Standard